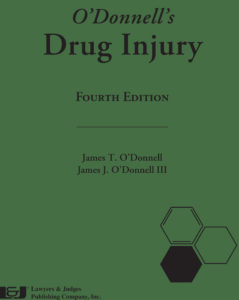 James Thomas O'Donnell, Pharm.D., M.S., FCP, ABCP, FACN, R.Ph., is a pharmacologist, pharmacist and nutritionist.. His career has included pharmacy practice in a variety of settings, as well as teaching, research, publications, and consultations in pharmacology, pharmacy, and nutrition to industry, government, health care, publishing and legal fields. He is Associate Professor of Pharmacology at the Rush University Medical Center in Chicago, where he served as the Course Director for the Medical Pharmacology program. He also held Faculty appointments at the University of Illinois Colleges of Medicine and Pharmacy. Dr. O'Donnell is a Diplomate of the American Board of Clinical Pharmacology, a fellow of the American College of Clinical Pharmacology, a fellow of the American College of Nutrition, Founding Editor-in-Chief of the Journal of Pharmacy Practice, and Editor of Drug Injury: Liability, Analysis, and Prevention, First Edition (2001), Second Edition (2005), and Third Edition (2012); and a Co-Editor Pharmacy Law: Litigating Pharmaceutical Cases (1995), and The Process of New Drug Discovery and Development, Second Edition (CRC Press 2005). He consults and testifies in matters involving pharmaceuticals, medication errors, nutritionals, dietary supplements, alcohol and recreational drug toxicity, and drug injuries throughout the United States, for defense and plaintiffs' counsel. Dr. O'Donnell received a Bachelor of Science in Pharmacy from the University of Illinois, a Doctor of Pharmacy from the University of Michigan, and a Master of Science in Clinical Nutrition from Rush University.
James John O'Donnell III, MS, PhD, is a chemist and research pharmacologist. He is an Assistant Professor at Rosalind Franklin University, where he teaches pharmacology in the Chicago Medical School and the College of Pharmacy.  He is also a guest lecturer in Pharmacology at Rush University Medical Center. He served as an NIH T32 Training Grant Postdoctoral Fellow in Respiratory Biology at the University of Chicago.  He also held a postdoctoral appointment at the Indiana University School of Medicine at South Bend.  His medical research principally focused on inflammatory diseases.  Additionally, he conducted organometallic chemistry research at the University of Wisconsin-Madison and at Northwestern University in Evanston, IL. Dr. O'Donnell is a member of the American Society for Pharmacology and Experimental Therapeutics, American College of Clinical Pharmacology, and the American Academy of Clinical Toxicology. He has particular interests in the microbiome research, computational research in pharmacology, pharmacokinetics, and analytical toxicology.  He received his Bachelor's Degree in Electrical Engineering and Computer Sciences from the Massachusetts Institute of Technology (MIT), a Masters Degree in Chemistry from the University of Wisconsin-Madison, and a Doctor of Philosophy in Pharmacology from Rush University Medical Center-Chicago.  He is a Co-Editor of O'Donnells Drug Injury IVth Edition.  Dr. O'Donnell consults in drug injury, analytical toxicology, and other related matters.
Pharmaconsultant Inc. experts consults and testify in matters involving drug injury, medication errors, alcohol and drug  toxicology and drug injuries throughout the United States, for defense and plaintiff's counsel, in Civil, Criminal, Employment, Family, Worker's Compensation, and Business law matters.
Drug injury/causation
Pharmacy Standard of Care witness/Civil/Board of Pharmacy
Drug Product liability/warnings/design
Alcohol Toxicology, Kinetics, Testing, Abuse, Intoxication/Impairment
DUI, OWI, DRE, Prescription Drug Impaired Driving
Involuntary Intoxication
Recreational Drug Toxicology (Cocaine, Marijuana)
Workmen's Compensation Drug intoxication/pain management
Pain Medication/Analgesic/Opiates, including OxyContin, Oxycodone, Percocet, Vicodin, Hydrocodone,
Dilaudid, Fentanyl, Duragesic, Methadone)
Dietary Supplements/Nutrition
Drug Patents and Trademarks